10,000 customers say this is the world's best inguinal hernia support
"To say 'thank you' for marketing such a superbly designed hernia support as this seems totally inadequate. It is without doubt the finest appliance on the market today. I have spent a small fortune in the past few years on different types of trusses and belts, only to find that for one reason or another they were unsuitable. I only wish I had known about your product sooner. Your claim that it will hold the hernia in, regardless of the position of the body, is entirely justified. I have given it every test I can, from digging the garden to riding a bicycle (pursuits which I had to give up for some time) and it has proved to be utterly reliable..."
This is just one of the many unsolicited testimonials we have received from customers all over the world.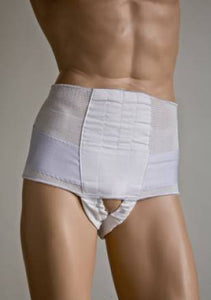 THE FLAT PAD SUPPORT
The original Flat Pad Support for inguinal hernia. Its unique double pad system allows it to prevent your hernia from emerging, whatever the position of your body. The pads do not slip off your hernia when you move. This is what makes this product completely different from others and why it has changed many people's lives for the better.
Some hernia belts, trusses or supports have rounded pads or springs which press into the hernia itself. This can increase the risk of enlarging the hernia. Our design instead uses unique flat pads which support the hernia but never dig into it.
"The Flat Pad Support gave me a feeling of security and took much of the tentativeness out of my daily activities."
Anthony in Australia
Wearing a support that keeps your hernia properly in place helps to prevent symptoms of pain and discomfort.
" My husband is a garbage collector which involves a heavy job. He's been in pain with his inguinal hernia for the past year. It was bulging from the skin. From the very first day he wore the Flat Pad Support he was amazed how much better he felt. Not even tired any more."
Emma in St Albans, UK
The Flat Pad Hernia Support doesn't need a fitter. It is more effective than a belt or truss. It has no metal parts or steel springs. It is worn next to the skin, underneath your normal underwear. This hernia support cannot be seen under clothes, so no-one need know you are wearing it.
Quality and Guarantee
The Flat Pad Hernia Support costs a little more than most. This is due to the intricacy of its design. The garment is not mass-produced in the Far East - it has complex components with precise measurements, and has to be made by experienced surgical seamsters in our factory in Nottingham, England. If you are in any way dissatisfied with the product, just return it within four weeks of receipt, for a refund or replacement with a different size.
"At first I could have been a little put off by the price but having received the support its worth every penny. The support it gives is second to none, and the flat pad keeps my hernia in place. "
Mike (in road construction)
SHOP NOW